On the initiative of the European Environment Agency the meeting on the in-situ component of GMES (Global Monitoring for Environment and Security) was held in Poland on the 8th of October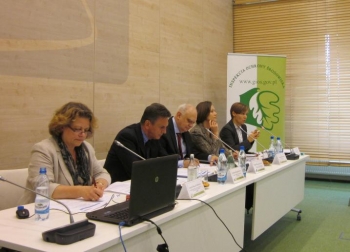 The visit of the EEA representatives in Poland was held within the series of EEA country visits under the GISC (GMES in situ coordination) project. The meeting was hosted by the Space Research Centre of the Polish Academy of Science and the Chief Inspectorate for Environmental Protection.
The GISC project was represented by Inese Podgaiska and Eugenija Schuren. Poland was represented by: Andrzej Jagusiewicz - Chief Inspector of Environmental Protection, EEA Management Board Vice-Chair; Marek Banaszkiewicz - Director of the Space Research Centre PAS, GMES Committee member; Lucyna Dygas Ciołkowska - Director of the Department of Monitoring and Environmental Information in CIEP, EEA/EIONET National Focal Point; DMEI CIEP and SRC PAS employees; representatives of the Ministries of: Science and Higher Education - the leading authority for GMES in Poland; Economy; Environment and many other institutions having in-situ data.
GMES is the European Programme for the establishement of the European capacity for Earth Observartion. It uses both satellite and in-situ data.