The first Eye on Earth User Conference organised by the European Environment Agency in association with the Irish Presidency of the Council of the European Union in Dublin has just ended.
During the conference held on 4-6 March 2013 more than 230 participants, representing 77 countries, considered together how Eye on Earth can support sharing environmental, societal and economic data. In December 2011 during the Eye on Earth Summit in United Arab Emirates some Special Initiatives were announced to enhance the access to the environmental information. The Eye on Earth network/service operated by the EEA, using Microsoft and Esri technology, gives new possibilities of accessing environmental information, inter alia allows everybody to publish the data, create maps and work with interactive applications.
Keynote speakers in Dublin included European Environment Agency representatives with Jacqueline McGlade - EEA Executive Director who also opened and closed the conference, representatives of the European Commission, United Nations Environment Programme, European Space Agency, Group on Earth Observations, Irish governmental administration, research communities including George Washington University, GeoSUR Programme. Special address was delivered by the Secretary General of the Abu Dhabi Environment Agency - H.E. Razan Khalifa al Mubarak.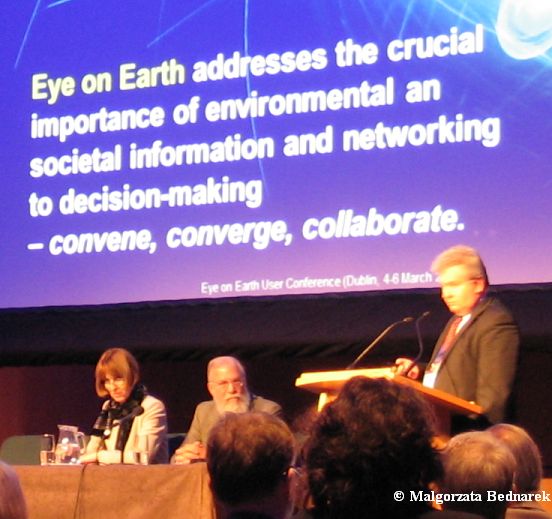 At the conference the development and importance of the EoE and also other new technology tools for environmental reporting and assessment, particularly UNEP Live was presented. During parallel sessions the presentations included country-level initiatives, participants also discussed more detailed issues of sharing environmental data and involving citizens in the protection of environment. Chief Inspectorate for Environmental Protection in Poland was represented by Lucyna Dygas Ciołkowska, Director of the Department of Monitoring and Environmental Information, EEA/EIONET National Focal Point - NFP PL and Małgorzata Bednarek, NFP PL Alternate.
During the conference the Global Network of Networks was launched - the aim of GNON is to align existing and planned environmental information networks. Key conclusions were included in Dublin Statement emphasizing willingness to collaborate under Eye on Earth and the need to promote, support and improve access to information. By linking diverse communities, implementing partnership and using citizen science EoE supports sustainable development.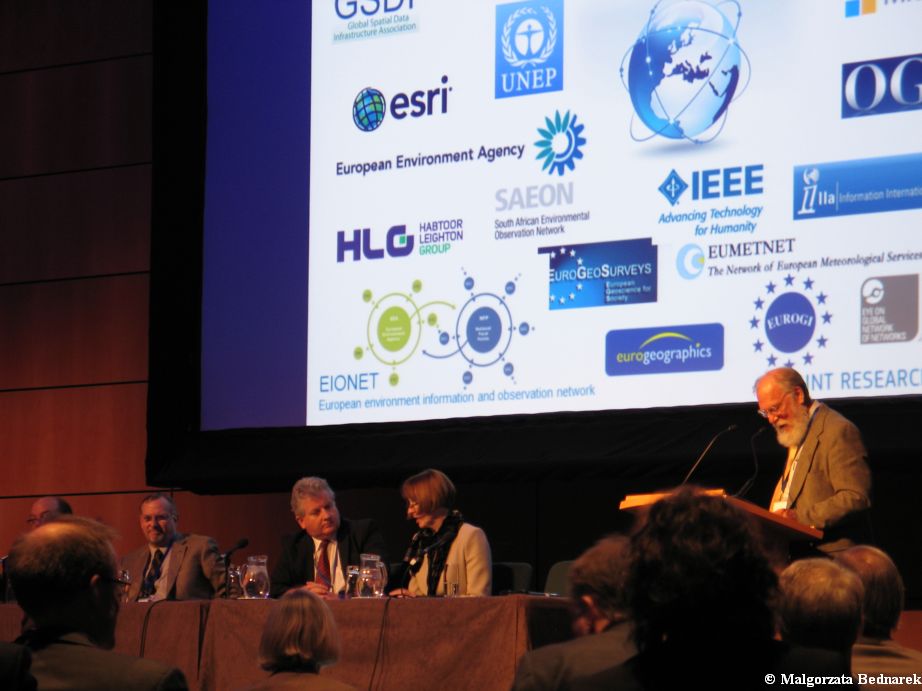 Because of the Eye on Earth conference the first EEA/EIONET National Focal Points meeting this year was also held in Dublin - back-to-back with the conference. NFP meetings are held three times a year, usually in the headquarters of the EEA in Copenhagen, to discuss by the EEA and NFPs tasks under EEA and EIONET work programme. Key points of the NFP meeting in Dublin agenda included current activities of the EEA, work of the European Topic Centres, EEA evaluation process, European water assessments, air quality communication strategy and work on the next state of environment report - The European Environment State and Outlook Report SOER 2015. The NFP meeting was attended by J. McGlade since her EEA Executive Director mandate will soon end.